Postage Rates and Information
QUOTATION PAYMENT
Collections:
Please be advised that collections should be made before 3.30 pm A packing charge is made for customer collection by courier
Delivery Charges
| | |
| --- | --- |
| Total Order Amount | Postage Rate |
| £1.00 - £25.00 | £12.50 |
| £26.00 - £100.00 | £15.00 |
| £101.00 - £200.00 | £25.00 |
| £201.00 - £350.00 | £35.00 |
| £351.00 - £500.00 | £45.00 |
| £501.00 - £750.00 | £50.00 |
| £751.00 - £1000.00 | £55.00 |
| £1001.00 + | £60.00 |
The above charges are for delivery to UK mainland only. Please refer to the sales office for the following charges
Special timed deliveries
Saturday delivery
Ireland
Scottish highlands
Scottish Islands
Channel Islands
Isle of Man
Isle of Wight
The above locations will incur additional charges
For all overseas deliveries please refer to the sales office for delivery costs
Most of the products held within our data base are available to purchase on line.
We do not guarantee that all items are available for immediate delivery as stocks are always being produced.
If you need an item by a particular date please contact the sales office before placing the order to confirm your delivery requirements.
Note
The size and shape of some of the products we manufacture may require a supplemental postage fee. However, where this occurs, we will not charge you for any items until we have contacted you and discussed any additional costs.
For information on alternative delivery methods or on products that cannot be quoted for online, please contact our sales office on 01923 241122.
Currency
Payments on our website will be taken in Pound Sterling.
Refunds
Where upon the delivery of goods the Buyer discovers that it has incorrectly ordered the goods, you will be refunded minus a 15% handling charge on the goods along with the delivery charge if Acrylic Design agrees to accept the return of the items. Without prejudice to the right of the seller to refuse to accept return of goods in any case the seller will not accept return of goods if more than 2 months have elapsed since they were delivered to the buyer.
See our Terms and Conditions document for more details.
Secure Online Payment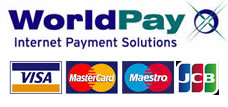 We use Worldpay to process all our payments and we do not store any card information on our own server. We take payment with most of the popular cards including Mastercard, Visa, Electron, Diners Club, Maestro and Solo.
Customer Service Contact
For any enquiries about ordering from Acrylic Design, please contact our customer services on the following:
Tel: 01923 241122
Fax: 01923 241144
Email: sales@acrylicdesign.co.uk
Registered Company Details
Acrylic Design Ltd
3A - 3B Shakespeare Industrial Estate, Shakespeare Street, Watford, Hertfordshire, WD24 5RS
Tel: 01923 241122
Fax: 01923 241144
Email: sales@acrylicdesign.co.uk

Company Reg. No. 4658580